Instagram Model Tebogo Thobejane Slept With SA President"- Inno Morolong Says
Instagram Model Tebogo Thobejane Slept With SA President"- Inno Morolong Says
Tebogo Thobejane is an Instagram Model And Actress from South Africa. She is also known for her starring appearance in the South African television show Muvhango in 2021. Further, She is also an international club host and an entrepreneur.
Inno Morolong Drags Tebogo Thobejane For Being Cheap
Inno Morolong drags Tebogo Thobejane on social media for being cheap and easy to sleep with.
Imagine waking up to so much drama. That's what's happening right now in the entertainment industry. The feuds are no longer brewing, but have spewed out of the pot. This time, Inno Morolong is dragging Tebogo Thobejane for so many things that would have you gasping.
The Mzansi star recently shared videos accusing Tebogo of calling her an old rag in front of her boyfriend. She also alleged that Tebogo sleeps with multiple men without a condom, and claims that she's jealous of Faith Nketsi.
After Gigi Lamayne Drama, Inno Morolong Tears Into Actress Tebogo Thobejane
"Instagram Model Tebogo Thobejane Slept With SA President" – Inno Morolong Alleges
Last night, club host Inno Morolong held one of a damning gossip galore in the history of Mzansi celebrity canards.
View this post on Instagram
She claims that the South African president once hooked up with her nemesis, Tebogo Thobejane.
Could it be the current sitting president? Many have been grilling.
Their beef is taking a nasty turn after their physical fight a few days ago and now their dirty laundry is being aired out in broad daylight.
5.

Inno Morolong says Tebogo Thobejane was friends with her because of her connections.

Inno Morolong further alleges Tebogo Thobejane is an easy girl to fuck and she's a 'how much' girl. pic.twitter.com/JY7cTaooAk

— Musa Khawula (@MusaKhawula) March 25, 2022
Inno and Tebogo's fallout dates back to 2021 when their friendship turned sour.
The two socialites have been previously accused of linking up young girls with sugar daddies from the parties they host.
At one point they had a war of words on Instagram Live where they slut-shamed each other and swore to never see each other again.
A year later, it seems like the two best friends – turned exes are still at it.
Inno went live on Instagram last night with special intentions to spill out some secrets she knew about Tebogo.
She alleged that Tebogo slept with several men without protection at her own house.
She further revealed that she used to pimp men out for Tebogo before the fallout and they would share the money together.
Speaking about sleeping with some notable old men in Mzansi, Inno threatened to reveal how Tebogo had been sleeping with the president.
She, however, did not reveal if she meant the current president or the previous presidents in South Africa.
Who Is Tebogo Thobejane Husband? Everything To Know About The Instagram Model
Tebogo Thobejane's husband is a mystery and, she is an Instagram model and actress from South Africa. Let's find out.Tebogo Thobejane is an Instagram Model And Actress from South Africa.She is also known for her starring appearance in the South African television show Muvhango in 2021.Further, She is also an international club host and an entrepreneur.
Tebogo Thobejane Husband – Is She Married?
Tebogo Thobejane is still unmarried and is currently single.
She has rejected all the rumors about her.
Thus, it seems like she wants to keep her life private.
Tebogo Thobejane Age- How Old Is She?
Tebogo Thobejane's age is 38 years old.
Furthermore, she was born in 1982 and celebrated her birthday every year on 30th November.
Taking about her height and weight, she stands at a decent height of 5 feet 8 inches and weighs 55 kg.
Tebogo Thobejane Baby
Tebogo Thobejane has a got a young son, Botlhale.
She has not disclosed the father of her son yet.
Thus, the further details of Botlhale are confidential for now.
Tebogo Thobejane Instagram
Tebogo Thobejane is an active user of Instagram under the username @tebogocthobejane.
She holds a verified account with more than 400K followers and has shared around 342 posts on her account.
Moreover, she became one of the first South African celebrities to join OnlyFans, a premium platform associated with adult celebrities.
Tebogo Thobejane Wikipedia
Tebogo Thobejane graduated from Johannesburg's elementary and secondary schools.
She graduated from a South African university with a bachelor's degree in film production.
Tebogo Thobejane came to popularity in South Africa due to her relationship with Faith Nketsi, her mentor and business associate.
Feline Model Management was founded by the two of them together.
She launched her waist trainer and make-up line, Bofa Belts and Slay Kit.
She is the CEO of Rush Productions, a company she founded to connect South African artists.
Tebogo has brought top Nigerian musicians like D'banj, Davido, Wizkid, and Tiwa Savage to South Africa through this business.
Furthermore, the company is in close collaboration with Taboo Group, South Africa.
READ ALSO:
Inno Morolong Exposes Tebogo Thobejane's Dirty Secrets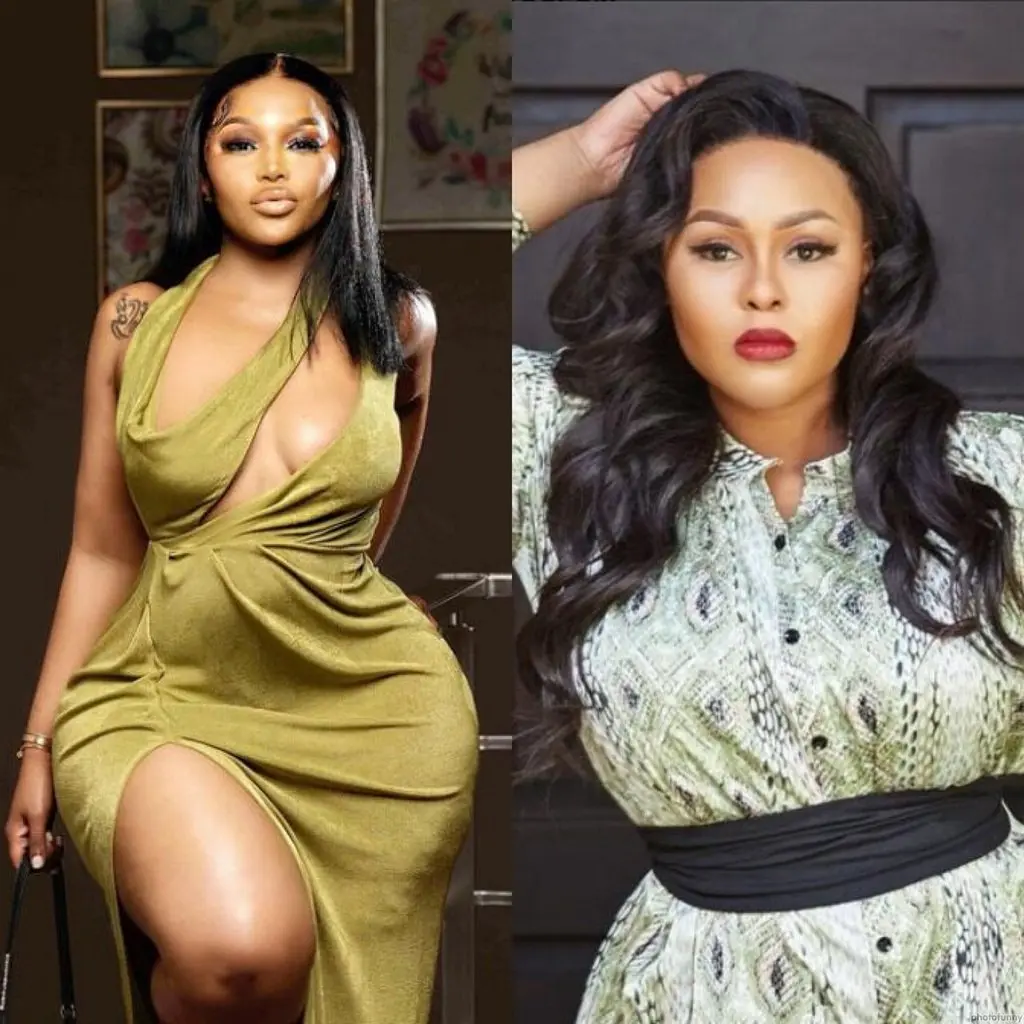 Socialite Inno Morolong has set the timeline ablaze again after taking to her Instagram account, to air actress Tebogo Thobejane's dirty laundry and we are here for the drama!
It is no secret that the former besties have become sworn enemies now and their feuds and rants always get people talking online. The two have been at each other's throats for some time, and it appears they will not be making amends anytime soon since Inno continues to expose Tebogo.
The Showmax's Diamond and Dolls star is breathing fire and she has to put Tebogo on blast after a physical fight. She accuses her of sleeping with Nigerian men in order to afford jewelry.
Inno had mentioned on her Instagram page that she would be exposing a 'magogo' who is a prostitute. She said this magogo is a fake friend who gossip about her friends.
She called her an "evil witch" saying she knows 3 of her sangomas. In a rant that has gone viral Inno accuses of sleeping with multiple men to finance her fancy lifestyle. She further alleges that Tebogo does not use protection when she bonks with these men. She further goes on to say that Tebogo is jealous of Faith Nketsi.
"I don't sell my body, I sleep good at night… my daughter knows one ex of mine. You call me an old rag but you sleep with 20 guys, in fact, 20 is an understatement. Some of these men you sleep with them without protection and you're filthy," she alleges.
"Some of these men fck you in your own house. No man has fcked me in my own house. You're even staying with your child but fck men in your own house. Unprotected sex you love it die. You fck the same set of friends, should I name drop? I can mention the names of the men… all those Nigerians and old men. Do you remember who hooked you up for your first bracelet? You even had to f*ck friends to get that bracelet."
Inno did not stop there; she went on to ask her about a president she was allegedly involved with. Although she did not name drop, she left people asking questions about who the president could be? She claims Tebogo even had a threesome with one of her friends and the friend was boring.
"What about the president? What about when you had a three sum with your friend and you said she was boring in bed?"
According to Inno, Tebogo should be on I Blew It after she misappropriated a R1 million she got from one of her daddies. She further alleges that Tebogo Thobejane's house is a 'poes huis.'
She further accuses her of taking drugs. "You take out your substances in front of my people you're mad. When I am around your people behave but when you around my people you misbehave. That day I slapped you.
She also said that Tebogo gets paid R1000 on Muvhango and she makes the rest of her money through her connections. Inno further claims that Tebogo Thobejane is an easy girl to sleep with and she's a 'how much' girl.